I was looking through a friend photos the other day, someone I hadn't seen in a very long time. I came across this amazing little piece of artwork. This art really said to me something that we don't think about very often.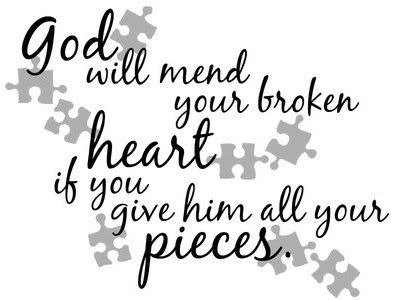 We often do not think about the healing power of God until we have something very serious for us. We ask for prayers when there is a heart problem, or cancer, or someone is in ICU. Our father is there for us for all of our ailments! All of our disease!
James 5:14-15 "Is any one of you sick? He should call the elders of the church to pray over him and anoint him with oil in the name of the Lord. 15) And the prayer offered in faith will make the sick person well; the Lord will raise him up. If he has sinned, he will be forgiven."
Think about the promise that is given here! Not only will we be healed in faith, but we will also be forgiven of our sins! Prayer is a powerful thing! We are charged to pray every moment we can, and often we forget this powerful, important duty! We think of those who are serving at the alter, those who are preaching, those who are working with the homeless as the ones who are really working for Christ. The Bible tells us though that we are all given different gifts, different duties and talents. If your talent is praying then that is what God wants you to do! Pray for the homeless, pray for their salvation! Pray for the sick, the needy, and yes for the pastors and preachers! They need our prayer too.
Pray without ceasing, pray with every fiber of your being, pray to the Lord that His will be done! And with
everything
give thanks to the Lord! God can mend a broken heart, but he can do so much more! He can give you back the love that you are afraid you are losing, he can help you put your life back together, he can heal disease, and make crooked things straight! Praise God with all your being, live and walk in communion with him and see how life changes for you!
In Christ,
Brian